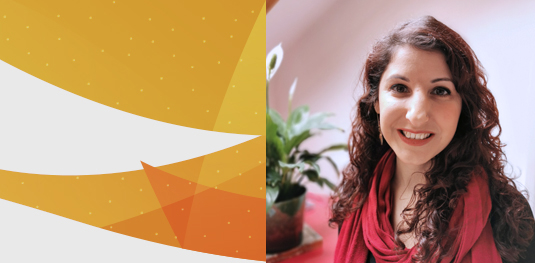 Getting to know…Julia Rosenbaum
Julia has recently moved into the role of Research Executive at Earthen Lamp, having first started working with us as an Associate in 2016. She has a background in education, including teaching in secondary schools, coordinating arts education projects, and recruiting apprentices for a local training provider. Julia is about to embark on her next educational challenge: completing a Master's degree in Psychology at Coventry University. She is passionate about a range of different art forms.
How did you first hear about Earthen Lamp?

I've known about Earthen Lamp from the very start. Some years before it was founded, Vishalakshi and I met through our love of singing so I've had the pleasure of seeing Earthen Lamp come to life, grow and thrive over the years.
What are you most looking forward to being part of the Earthen Lamp team?

Talking to a diverse range of people about their experiences and views has always been one of the pleasures of working with Earthen Lamp. My role as Research Executive enables me to build on these experiences by learning more about the research process as well as opening up new opportunities to develop my skills. It is also a real privilege to work more closely with an amazing team of intelligent, ambitious and positive individuals.
What Earthen Lamp projects have you been working on so far?

Far too many to name them all! My first Earthen Lamp venture was interviewing visitors to Birmingham Hippodrome's street festival, Summer in Southside. Since then, I have enjoyed live music (and great food!) at Birmingham Mela and Simmer Down festivals; joined families as they made pizza over an open fire and engaged in nature-influenced crafting sessions at Sandwell Valley's Big Wild Pyjama Party; interviewed young people and their teachers at workshops held during the British Ceramics Biennial; laughed at jokes shared at Creative Black Country's Funny Things festival; shared a love of visual arts with visitors and staff at New Art Gallery Walsall; experienced mesmeric live performances at Fierce Festival; and listened to individuals sharing their experience of faith as part of research conducted for the Birmingham diocese of the Church of England.
Another Earthen Lamp highlight was joining pupils as they took part in STEAM workshops at James Brindley Academy's teaching base at Birmingham Children's Hospital. These workshops were part of Hippodrome Creative Projects, an initiative led by Birmingham Hippodrome to mark the 120th anniversary of the first medical X-ray performed in Birmingham by radiology pioneer Major John Hall-Edwards. Pupils experimented with a range of different media, creating visual and sound artwork with support from sound artist Justin Wiggan, X-ray artist Hugh Turvey, and PhD student of Composition Tsun Winston Yeung. The young people involved clearly enjoyed these engaging, exploratory workshops where they learned about science whilst creating beautiful and unique works of art. Read more about the inspiration for the project.
Tell us about your most memorable cultural experience, something that is etched in your memory or has had a lasting impact on your life?
I am very lucky to have been involved in many different arts experiences as a participant, audience member and in a professional capacity. There are two projects which particularly come to mind as having a lasting impact. Firstly, supporting Black Country Touring with recruiting, training and coordinating volunteer stewards for their award-winning production Corner Shop: a brilliantly interactive and original production where I worked with a wonderful team. Secondly, watching professional musicians engaging with pupils with special educational needs as part of the CBSO's Music & Ability programme: it genuinely was a privilege.
What are your hopes and aspirations for the cultural sector going forward?

As we begin to move out of Covid-19 lockdown and wait with baited breath to hear how and when the cultural sector can fully reopen, my hopes and aspirations relate to the importance of arts and culture in all our lives. Of course, firstly, I hope that cultural organisations survive these challenging times but I do have greater aspirations for the sector. I hope that the ways in which organisations have adapted – such as through the greater use of technology in hosting events such as online talks, virtual tours of galleries, and live streaming of performances – enable new audiences to discover the wealth of cultural offer available to them. I hope that, having been prevented from attending cultural events for months, people will seek out these experiences in the real world and will support the cultural sector as it reopens – whether through participation in small-scale community events, or as visitors to museums or audience members at large-scale productions. Finally, I hope that all those who rediscovered their love of creativity during these strange times maintain this passion and remember the importance of the cultural sector to the health, happiness and wellbeing of both individuals and the communities in which they live.