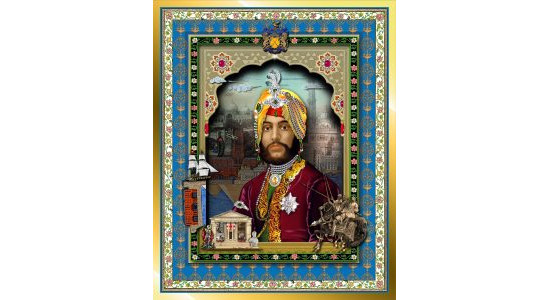 On a sunny Saturday evening, I found myself at Wolverhampton Art Gallery. Welcomed with a glass of wine, I headed up to the first floor to see Mersey Miniatures by the Singh Twins. Internationally renowned artists based in Merseyside, their show consisted of 10 framed minatures depicting a fascinating mix of Eastern and Western culture and symbolism imitating the style of traditional Indian miniature paintings.
A panel discussion titled 'India Rocks! (or not)' started shortly after. The panellists were influential Brits with Indian heritage: Harpreet Kaur, Bobby Tiwana and Indi Deol. All have a different relationship with India. Discussions circled around cultural identification and belonging. The talk took place in a large exhibition space which had a full audience, and lots of them were very keen on getting involved with Q&A.
Parallel to the talk, DJ Swami & Punjabtronix created a great mood downstairs and the 'Girls, Girls, Girls' photography project kicked off with an pop-up photo studio and photo shoots by artists in residence.
The event was an excellent start to the Alchemy Black Country which took place until 28 May. Mersey Miniatures continues at Wolverhampton Art Gallery until 23 July.
The event was organised in partnership between Black Country Touring and Creative Black Country.