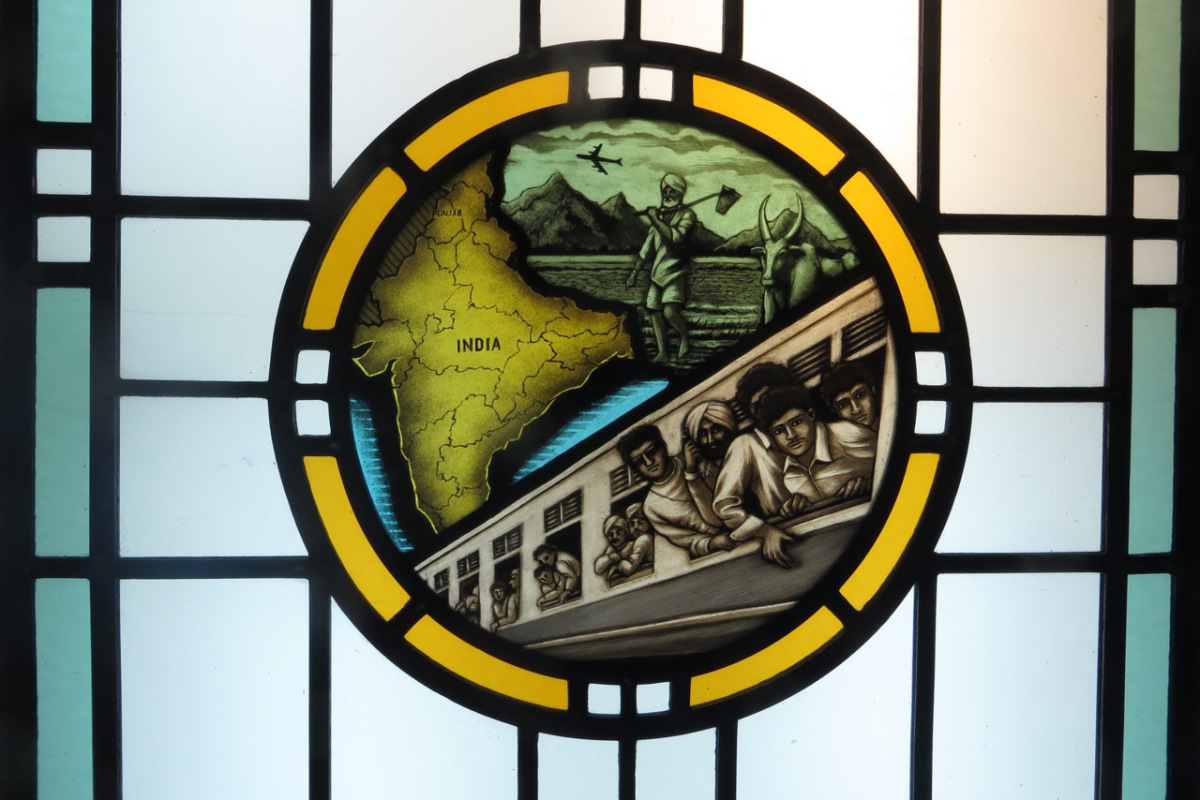 Over the last few decades, Asian landlords across Britain have been salvaging struggling pubs by reinventing them for new communities. This has resulted in an East/West mash-up where the traditional English boozer with ales and darts meets Punjabi food and Bhangra.
In the summer of 2016, the World's first Punjabi pub signs were hung, and new art works unveiled in several Desi Pubs across the Black Country as a result of an 18 month artist and landlord collaboration commissioned through Creative Black Country. We have been following the project as part of our work with the organisation.
Local artists created bespoke artworks with eight Desi Pubs, working closely with the landlords, staff and regulars to reflect the Desi pub story and how they have redefined Black Country pub culture. Work included stained glass windows in The Red Lion in West Bromwich featuring Malcolm X visiting the Punjabi Workers Association in the 1960s; a large-scale mosaic mural depicting dancers and dhol drummers for the Prince of Wales; portrait photography at the Ivy Bush, The Fourways, The Sportsman and Island Inn; and a large oil painting of the landlords and staff at The Red Cow, all telling extraordinary stories about migration, survival, love and food.
Creative Black Country collaborated with Nottingham's New Art Exchange (NAE) to enlist Smethwick-born visual artist Hardeep Pandhal to create new pub signs for these pubs with specialist pub sign painter Andrew Grundon.
Grundon said of the collaboration:
'I was reproducing an unfamiliar and very individual style of illustration, designed by Hardeep, and working with cultural and language references that were new to me. I was very conscious of being respectful to the artist, the landlords whose narrative was being incorporated, and the community. Trying to fuse these sympathetically with traditional British pub sign design meant slightly adapting both the lettering and layout to accommodate this new style without compromising either.'
'The handcrafted pub signs are not only works of contemporary art but they are bold landmarks that unify the pubs and narrate this remarkable story.' commented Creative Black Country's Artist Director Parminder Dosanjh. 'The landlords have been very much involved in the process of creating the work.'
All of the artworks were officially launched with a tour of all the pub sites in September 2016.
Desi Pubs is an on-going art project in partnership with New Arts Exchange, BBC English Regions, Midland Pub Association, Southbank Centre supported by Arts Council England's Creative People and Places. More information about the project can be found here.